Obviously, Ironman Augusta 70.3 is one of my favorite races, since this is the third year in a row I competed in it. Why?
The 1.2 mile swim heads downstream giving those of us that are not great swimmers a little push.
There are two main sporting events in Augusta. The little golf tournament called "The Masters", and the Ironman, so the whole city seems to show up to support it. The Ironman doesn't have near the amount athletes or the out-of-town spectators, but it doesn't seem like that when you are competing.
The 56 mile bike course is beautifully scenic with rolling hills which makes it somewhat challenging and a lot of fun.
The run course is two-loops around the center of town which is loaded with spectators that are cheering and holding signs with sayings like "If Triathlon was easy they would call it football." It gives the competitors continuous motivation through a the 13.1 mile completion to the challenge which depending on the temperature could be grueling.
The volunteers, all three years I have competed, have always been amazing. There are aid stations every 10 miles on the bike and every mile on the run, so there are a huge amount of volunteers that are there for a very long time.
The expo and check-in have always been run very professionally and smooth. It is probably one of the best run expos I have took part in.
The weekend started off with a caravan of amazing people up to Augusta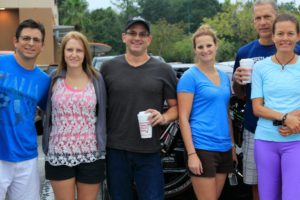 including my buddy Pete, Kari, Jaime, Kat, Chris, Kate, Matt, Jeff & Miranda. All of them great people and athletes.
The ride up was uneventful with one stop at Cracker Barrel to fuel up and a couple of minute stops for gas and essentials. We went right to check-in and surprise, surprise, the Marriott opened their new convention center so there was so much more space for check-in and the expo than last year. In the past everything was in a series of rooms, now it was in one great big room that allowed for more vendors and more space to move around. There had to be at least 50% more vendors than last year. It was amazing. Of course my favorite part, as always, is the atmosphere. Super charged with excitement and enthusiasm.
After getting settled in are hotels, Chris, Jaime, Kat and I had dinner at this little restaurant of an old hotel called the Partridge Inn. The meal was incredible, and for the first time I got to try Shrimp & Grits, which of course Jaime was astounded I had never tried. It was really amazing. Paleo? Not in the least, but it was delicious. We ended up splitting our dinners, of which mine was a 16oz prime rib that was cooked to perfection. It was an amazing choice, indeed. (Patrons of the hotel had much less to say of the hotel though.)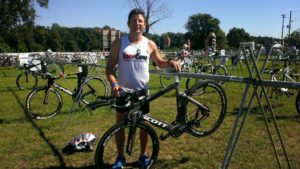 The next day consisted of quick workouts, bike check-in, race prep and another awesome dinner at Charlie-O's Steak House. We had a much larger crowd for dinner which not only included the caravan gang, but some members of Tri-Psych as well. It was the perfect crowd to spend the evening before the race. Everybody was calm, cool and collected on the outside, but some pre-race anxiety seemed to be looming over all of us.
I was surprised at how well I slept that night. I usually never sleep the night before a race. Of course I still didn't get eight hours, but the 6 I did was a very hard sleep. I woke up even more refreshed than I thought. I had the opportunity to dress, eat and be ready with time to chill out and motivate myself.
The transition area was crowding fast as usual, and since last year I had a very early start, this year I ended up more in the middle waves, so there was plenty of time, to relax and get my bike and gear ready, without feeling rushed. As always there were plenty of people who caught up with me either from, home, past races, social media, or my blog. It was awesome. Race morning has to be one of my favorite times of the race, just because of the excitement and the convening with friends and acquaintances. Those of you podium placers probably are in your own little world at this point, and it makes sense, but to a lot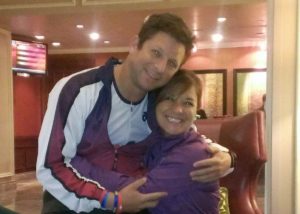 of us just trying to beat our past times and finish comfortably, this is a great time of the morning.
The shuttle took us to the host hotel, and as it was in the lower 50s at the time, we decided to grab some coffee and hangout in the lobby. Finally, it was time to head over to the start, drop my "morning clothes" bag in the truck and enter my corral for the start. I found Jaime, which calmed my nerves a bit. He races with Team RWB of whom I am honored to call myself a part of as well, but he is much faster than I. Usually about 20-30 minutes faster. He is an amazing athlete, motivator and all-around person. We only catch each other at races, but he always is able to motivate just that little bit extra.
The time came and they moved us to the dock, the
gun went off and we jumped in and started swimming. I have been working on my swimming so I adopted my rhythm as soon as possible, and found myself right with the majority of the pack the first 800m but then I fell short. They swam past and I ended up, as usual, in the back. Around the 1200m mark the pack behind me caught me and by time I finished, the fast women, two waves behind me, caught me. I still ended up beating my swim time from the year before by a minute, but it was still slow.
I ran up the ramp to transition and without any incidents I grabbed my bike and headed out and just as I was about to leave transition, mother nature called and I made a quick decision to use the portlets. I still ended up with a four-minute transition, but I was a little disappointed. Around the three-mile mark I started to feel something new; quad burn. I was astounded I was feeling this so soon. Usually, it took 40 to 50 miles of hills before I felt it this bad. I must have over-used them in the swim. After another fifteen minutes I took a Honey Stinger Gel prematurely and the burn subsided meaning that I must have depleted my glycogen levels just enough to feel it. My cadence kicked up and I started passing people, and while I was still getting passed by the elite cyclists in the waves behind me, I was doing more passing than getting passed. The hills were as I remembered and I didn't have any issues with them until mother nature threw me a curve ball. She added the wind. I was thinking the whole time, I just wanted to average 20mph. That would get me into T2 under 3 hours. I did make it to T2 with that goal, but I fell short of my 20mph average at 19.44 mph.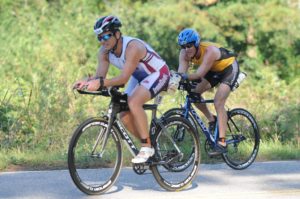 Unfortunately, because I wanted that 20 mph so bad and I had not accounted for the wind, I spent a little more energy than I wanted and I felt in on the run. At first I felt a little tight, but I was used to that. In my training it took till mile three to get my legs back, so I pushed through and bided my time until then, but at mile three, the tightness didn't go away. As a matter of fact, the tightness never went away. I ended up doing a run/walk of 1 mile on and sixty seconds off. It worked but I faltered on even doing as well as I did the year before. I was under two hours in 2012, but this year I ended up 2:05 which is the exact amount I was off my over-all time: 5:42 off from 5:36. I cared for a while, but I assessed what I learned and what I needed to take away in order to be successful at Ironman Florida which is the ultimate goal for the year.
I caught up with Pete around mile 11 and we ran into the finish chute together. Of course we were passed by Master's champion runner, Jeff Lessie who was doing the bike and run as part of a relay. What made it really embarrassing, was that Jeff started an hour behind us and he still caught us. He is an amazing athlete, and when he ran passed us we thought for sure he was just on his first loop, but when we saw him in the finish area, both of us looked at each other and then down at the ground. After a couple of nanoseconds we lifted our heads, found him and gave him a hearty congrats. We both still did pretty well and we knew it.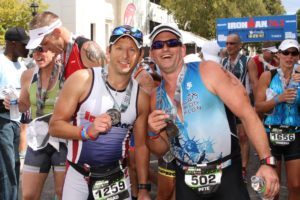 On to the next challenge, for me, the Chicago Marathon, and for both of of us Ironman Florida, Panama City Beach.
Carpe Viam!!